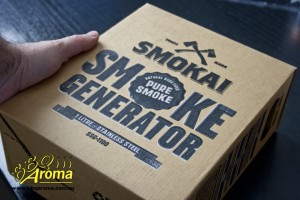 Here is a quick look at an interesting device that will convert your existing hooded gas BBQ or similar into an affordable smoker. The Smokai Smoke Generator made by outdoors men for outdoors men.
If you dabbled in basic food smoking using a standard BBQ or always wanted to attempt that ultimate smoky pork rib at home, then this could be a handy tool for you to own.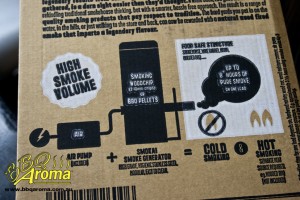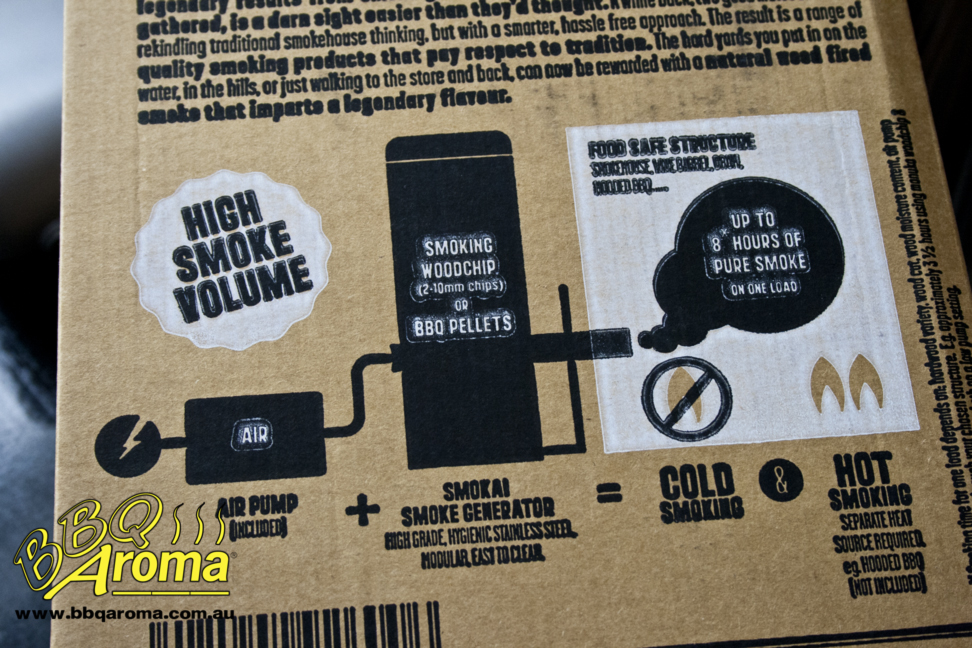 We managed to get our hands on the Smokai 1 litre version with a retail price of $149.95 inc GST in Australia. It may seem pricey if you compare it to a cheap basic sawdust fish smoker or even the good old smoker box in the corner of the BBQ method, but this kit will give you up to 8 hours of smoke depending on wood used and airflow. That is more than ample to do anything from smoking that large festive turkey right to a hearty chunk of Beef Brisket.
On the rear of the box, there isn't that much more information to show truly what this device can do, but then what do you expect from a smoke generator but to only to blow out "Natural Wood Fired Pure Smoke" as stated on the front of the box.
The guys at Smokai from New Zealand really wanted to focus on a simple, quality product that would last for years. Yes the packaging is very basic but down the side it explains in 4 steps what you need to do when you get this device.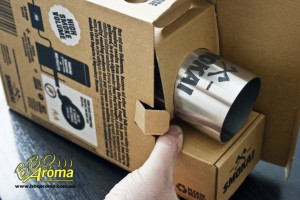 First step is to "FIT" the Smokai – Most hooded gas BBQs have a rotisserie hole on the side. The business end of the Smokai has a 2cm Dia blow pipe which should fit snugly in the pre-existing rotisserie hole in the BBQ. Else you will need to drill a hole to fit the smoke pipe end through.
The Smokai also comes pre-assembled with a mounting bracket and a couple of bolts. The smoke pipe sticks out by 7cm from the bracket, so mounting the Smokai securely on the side of the BBQ shouldn't be an issue.
Second step is to "FILL". You can add small wood chips, smoker pellets or sawdust. Filling the cylinder will give you ample wood fuel to create the needed smoke for your smoke flavoring or preserving process.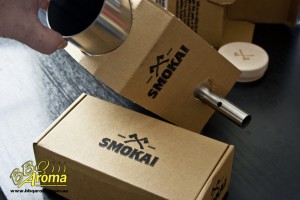 Third step is to "LIGHT". Using a BBQ lighter, matches or a small blow torch, you can start the smoldering process by lighting through the burner holes on each side of the Smokai.
The last step is "SMOKE". Connect the included air hose from the air pump and turn it on. Air is pushed through the generator and draws the smoldering smoke out and through the exit smoke pipe on the other side.
Of course this all might sound easily said than done, especially when you have never smoked food before but this device does simplify the process for you when it comes to continuous smoke. You are really left alone now to work out recipes, temperature to cook at and the duration of your cook.
Unpacking was straight forward. There are just 2 main parts to take out which is the stainless steel smoke hopper with the air input pipe and the smoke output pipe all in one piece. The second box contains the electric air pump and owners manual.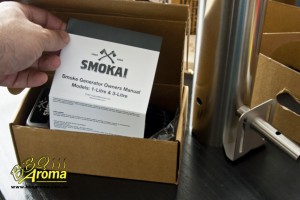 Its recommended in the owners manual that the smoke generator uses wood chips between 2-10mm in diameter or BBQ wood pellets. What you can't use is treated, glued or soft woods which contain toxins and poisons, so best to always use purpose made wood products for food smoking if unsure.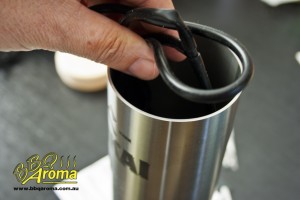 Wood pellet brands like BBQr's Delights have been in Australia for many years and an average bag of pellets would mostly set you back around $10 for a 450gram pack. This brand is 100% pure and natural product and a great way to start if wood chips are hard to find. The the most common wood flavor that everyone is familiar with is Hickory which is very much an all-round wood flavor to go for.
If you are lucky enough to know a butcher that makes their own smoked small goods, then maybe you can get sawdust or wood chip from them as well. Most would use European Beech or Oak but they would be purchasing their sawdust in bulk bags of 15KG each. Some butchers are even using Australian native hardwoods like Iron Bark and Black Wattle so it would be a good idea to pick their brains as well on what types of wood to try with different cuts of meats.
Setting up is very straight forward. The air hose is found inside the cylinder so make sure you take that out before you add the wood inside in case you missed it.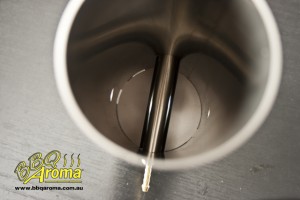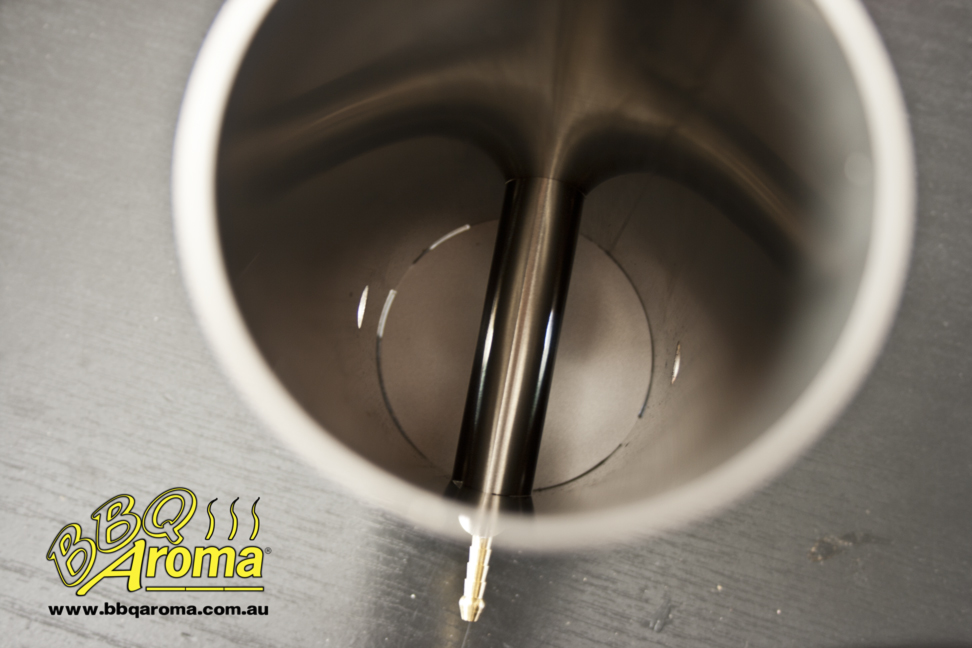 Looking down from the top of the cylinder, you notice that its quite a sturdy unit. It weighs just under 1Kg and made of high grade stainless steel. You can see a stainless steel tube that runs through the centre just above the base of the smoke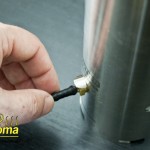 generator. There are no moving parts and basically you fill the cylinder to the top with your wood smoking fuel. The 2 holes on each side is where you light the wood through so that the smoldering process can start.
Attaching the air hose to the air intake nozzle is simply done. The air pump supplied has 2 air blower out holes but the air hose comes included with the join to create one hose to connect to the Smokai Generator unit. When the air pump is switched on, air is pushed in the Smokai and through the centre tube which has a void at the bottom which allows the airflow to draw the smoke into the pipe and direct it out of the main cylinder.
As the wood smolders at the base and reduces on the inside of the cylinder, fresh wood above comes in contact with the smoldering wood below and keeps providing fresh clean smoke until all the material is used up.
For those that are attempting to do a cold smoke using the Smokai, then you should note that wood pellets, although they may burn for long periods will also burn much hotter. So its recommend that the air pump be set to low if using pellets for this method, else you are going to get an elevation in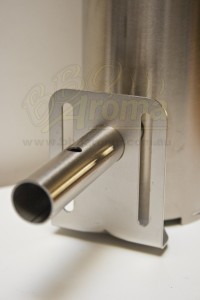 temperature during the cold smoking process.
Setting the air pump at high, you actually would be creating more hot smoke blowing  into your smoke chamber, so you need to monitor temperatures if you are attempting to cold smoke. For those that have never cold smoked before it is very important that your food must be cured prior to smoking to prevent bacterial growth that may be harmful. Temperatures above 5 degrees Celsius and below 60 degrees Celsius is the danger zone where bacteria thrive and multiply in and over a long period of time, bacteria can multiply to critical levels that will effect your health.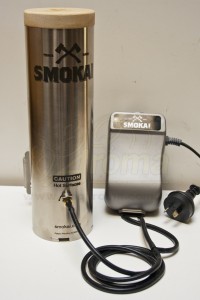 This is not so much a problem when doing a hot smoke in the BBQ. The higher cooking temperatures inhibit bacterial growth – so its very easy to just throw in a roast, try and maintain a constant temperature at least above 100 degrees Celsius under the hood and then smoke away for half the cooking time needed to have that roast done. Using a meat probe is also a handy device to know when your roast is ready on the inside, so you will figure out very quickly that smoking your dinner low and slow will not just give you tender succulent meat but also a marvelous aroma and taste  from the infusion of smoke in the process.
In conclusion the Smokai is a solidly constructed unit designed to fit onto a hooded BBQ which supports a standard rotisserie kit.  Of course you can build your own smoker out of a wine barrel, old cupboard or even from a 44 gallon drum. But the beauty is that so many have hooded 4 burner to 6 burner gas BBQs that sit dormant in the back yard, so why convert them into smokers and extend your cooking season.
The set and forget nature of the Smokai makes it a winner – just load up and let it blow smoke and come back when your cook is done. Am looking forward to using one myself so stay tuned for the next review on performance!
Available in Australia through BBQAroma. Purchase online from BBQAroma